VEGAN FOOD START-UPS IN INDIA
INTRODUCTION:
India on the one hand faces great challenges in combating hunger and malnutrition. Animal meat is not an efficient source of protein, and it even causes environmental impact. It is not well treated, and their waste is dumped into the river and pollutes the water. Animal agriculture Industries contribute to Greenhouse gas emissions. Although 77 percent of animal agriculture takes place, only 17 % of humans take their supply because human eating habits are changed. It depends on the individual economy, diet pattern and other facts. vegan protein replaces the conventional animal-based protein. The mass production of animal flesh for consumption not only affects the environment but also affects human health. So, the food technology innovation and research are taking vegan based protein without changing their meat taste. Vegetarianism is still at an early stage in India and here are some of the lists of vegan food companies in India
Vegan Milk
GOODMYLK (Veganarke):
Goodmylk is a brand of plant-based milk. To provide lactose free and completely vegan products. The main ingredient to make alternative milk is Almond, Soya, Coconut, Quinoa, and other Options for Making Milk. The company worked on this mission to provide affordable and approachable service in India. To enjoy best quality preservative free affordable vegan milk, curd, cheese, latte refer GOODMYLK.
PRODUCTS PROVIDE: Bundles
                                    Mylk and curd
                                    Cheese and paneer
                                    Spreads, dips, and butter
                                    Plant based nutrition 
ESTABLISHED YEAR: 2017
FOUNDER: Abhay Ranjan
CONTACT DETAILS: Veganarke Enterprises Pvt Ltd
No. 86, Temple Street, NGEF layout, Sadananda nagar, Bengaluru- 560038, Karnataka, India
+91 80 4719 2212 –
support@goodmylk.in
Strive:
Strive provides vegan based shakes instead of dairy milk. To provide a healthy lifestyle full of macronutrients, strive launched the daily nutritional shake containing 12.6 g oh high protein beverage. Peas, apple, flaxseeds, almond, stevia leaf, chocolate, and more Ingredients they are used to provide luscious shakes. Lactose intolerance and PCOS/PCOD people can take their diet with alternative milk.
PRODUCTS PROVIDE: Plant Based shake
                                    Plant powder nutrition
ESTABLISHED YEAR: 2019
FOUNDER: Arthi Deiva
CONTACT DETAILS:7th Main, Indiranagar, HAL 2nd Stage, Bangalore/Karnataka, Karnataka 560038, IN
+91-84315-88265.
play@plantbyte.in
Life Health Foods:
Life health foods provide creative and innovative foods for us under the brand name of "So Good". They replace their ingredients with soya, almond. Especially So Good essential plus contain some micro nutrition such as Calcium, Folate and B12, a source of Protein, Zinc & Vitamins, Iron & Omega 3 are taking place to stand out their range.
PRODUCTS PROVIDE: So Good Almond milk
                                    So Good Soy milk 
                                   So Good protein +
                                    So Good essential plus
ESTABLISHED YEAR: 2013
CONTACT DETAILS: Life Health Foods India Pvt. Ltd
213, Atlanta Estate, Dr. Ambedkar Chowk, Off, W.E Highway, Goregaon (E), Mumbai-400063
Email: feedback@lhfindia.in Phone: 022 292 72028.
Milkin Oats:
The most satisfying part of our life was to have a chocolate milk which is free of dairy, soy, nuts, refined sugar, preservatives, no artificial flavors, and colors. The primary ingredient is oats which are high in quality, natural sugars. People can consume oat milk for those who are allergic to nuts, soy, dairy and perfect for everyone.
PRODUCTS PROVIDE: Daily essentials
FOUNDER: Ashna Goel was introduced
Vishwesh J. Nair, who had recently discovered
CONTACT DETAILS: Delhi, India
info@milkinoats.com+9181697 14338
Bevry "OATLY OF INDIA":
Bevry is the largest manufacturer and sells oat milk in India. The creamy textures give a comfort feel. As a result, products are ready to eat oatmeal, oat yoghurt. Brand's main ingredient is oats. It is an organic creamy Oat Dairy Free Alternative to Cream. Bevry's oat milk is packaged in a glass bottle, which can be recycled. The products are available on Bevry's online platform such as Amazon, Flipkart, VeganDukan, VeganMall, LBB (Little Black Book) and Big Basket
PRODUCTS PROVIDE: Ready to eat oatmeal
                                      Oat yogurt
                                      Dried fruits
ESTABLISHED YEAR: 2019
Co-FOUNDERS: Ravi, Avinish and Pradeep
CONTACT DETAILS: RAP BREW PVT. LTD.346A, UDYOG VIHAR PHASE – IV GURUGRAM – 122015, HARYANA
+919311362929
www.bevry.in
JUS' AMAZIN:
Jus' Amazin from Bengaluru products are dairy free, gluten free, soy free. Committed to providing delicious dairy free food products. The main ingredients are cashew, Almond, and Peanut, watermelon seed, pumpkin seed, sunflower seed, and flax seeds. Company focuses on delivering unique differentiated flavors that make eating nutritious / healthy food a joyous experience. All the products are high in protein percent varies from 18% to 31%. The butter made up of seed and almond is especially rich in iron, calcium, and folate.
PRODUCTS PROVIDE: Almond milk
                                      Dessert Mix 
                                      Nuts & seed butters
                                      Sauces and Chutneys
                                      Snack food 
                                      Jus' Amazin Gift card 
CONTACT DETAILS:
No 50, 1-5A, 2nd A Cross Road, HBR Layout 4th Block, HBR Layout, Bengaluru, Karnataka 560043
info@jusamazin.com
+91-78997-37378
Sain:
SAIN uses Almond nut as a primary ingredient to make nut milk with different flavors. Products are lactose free, animal free, added sugar free and cholesterol free. Products are available in sweetened and unsweetened flavor. All the products are available on their website and monthly subscription plans are available.
PRODUCTS PROVIDE:Almond milk (various flavors, including cacao, vanilla, and cardamom)
ESTABLISHED YEAR: 2017
FOUNDER: Sheena Jain & Tarun Jain
CONTACT DETAILS: Mobile: +91 9999740003 
Email: info@sainworld.com
Oats'Up:
Oats'Up took birth to change people's perspective towards oats from healthy & boring to super healthy & interesting through oat-based beverages which are 100% plant-based and without all those unnecessary stuffs that nobody wants in their food by Animesh Gupta, Founder of Oats'Up.                                                                                                                                            
The main product is Oats taken as a main ingredient for Oat's beverage.
PRODUCTS PROVIDE: oat milk beverage
ESTABLISHED YEAR: 2020
FOUNDER: Animesh Gupta, Pramit Gupta
CONTACT DETAILS:
Phone Number
+91 90791 93803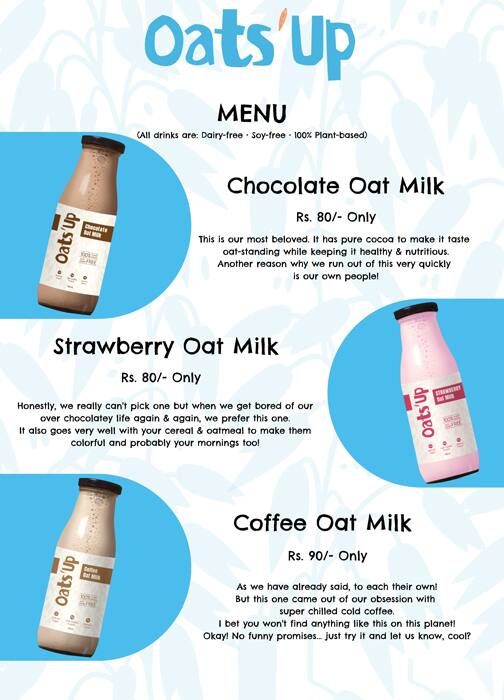 Vegan cheese
Softspotfoods.com 
Soft spot food is one of the vegan foods in India. It has been developed to give authentic flavor, texture, and aroma. The ingredients they used are completely free from GMO and allergens, and cruelty. This brand gives the same complex flavor with notes of nuttiness, tanginess, umami, and sweet milkiness amongst the hundreds of other flavors.
PRODUCTS PROVIDE: Vegan cheese (Cheese spread, mozzarella, cheddar, Parmesan, Nagin Cheese, Smoked Cheese and more)
ESTABLISHED YEAR: 2018
FOUNDER: Anushi Patel.
CONTACT DETAILS: Shop 21, Bhiwandi Walia Terrace, S.S. Gaikwad Road, FM Lane, Mumbai, Maharashtra 400002
Liveyumfoods.com
Live yum company was started with a purpose to give plant-based eating in India with an affordable price. Products are major food allergens, namely – dairy (casein, whey, and lactose), gluten (from wheat, barley, and oat), soy, eggs, peanuts, fish and shellfish. It was developed to inspire a culture of conscious and mindful eating and being. They provide innovative, compassionate, and delicious plant-based food.
PRODUCTS PROVIDE: Cheese & Ghee (Vegan Cheese, Mozzarella, Cheese Spread, Cheddar cheese shreds and more)
ESTABLISHED YEAR: 2019
FOUNDER: Taavya Ravi
CONTACT DETAILS: LIVE YUM FOODS
120, 3rd Main Rd, Defence Colony, Indiranagar, Bengaluru, Karnataka 560038
Cowvathi:
Cowvathi produce vagan based garlic cheese which come in different flavors such as chili, garlic, and basil, as well as dairy-free dips and curds. These foods are available in select stores in Mumbai, Khar and Chennai, while delivery is available nationwide.
PRODUCTS PROVIDE: Block cheeses, mozzarella, and cheddar
ESTABLISHED YEAR: 2017
FOUNDER: Shasvathi Siva
CONTACT DETAILS:
099203 41205
cowvathi@gmail.com
    http://cowvathi.blogspot.in/
AUROSOYA:
AUROSOYA manufactured factory located in Auroville nearer to Pondicherry. They replace paneer with tofu, yogurt, buttermilk made with soybeans, both ready to eat and easy to cook, and packed in biodegradable plastic. Grill bakes cook smoked delicious tofu is made with organic, non-GMO soybeans. Delicious organic tofu (soya paneer), Tiny chocolate and lemon tarts, soya floor, chocolate cookies and more.
PRODUCTS PROVIDE: Producers of tofu, smoked tofu, soy milk, okara muesli, and more
FOUNDER: Dhaval Chandarana and Frederic Cordonnier
CONTACT DETAILS: Aurosoya.in
DM on Instagram @Aurosoya
Vegan Eggs
EVO:
It's turn to egg haters Evo to replace egg with plant-based protein from lentils. It is cruelty free, cholesterol free and antibiotic free. Products Evo egg alternatives. Let's crack the plant-based egg. Evo clearly mentioned this vision are Planet-friendly, Animal friendly, Vegan friendly, and non-vegetarian friendly food market.
PRODUCTS PROVIDE: Plant based egg
ESTABLISHED YEAR: 2019
FOUNDER: Kartik Dixit and Shradhha Bhansali
CONTACT DETAILS: EVO FOODS INDIA PRIVATE LIMITED
15, Satyam villa, Gandhinagar, Dombivli East, thane Mh -421201
VERLAY FOODS:
Verlay is the first organization to introduce Soy Food on Non-Veg Texture. It is the leading soya product supplier in India. VERLAY foods provide ready to eat food products made of soya, which have the same texture as egg. Some recipes are soya noodles and vegetable soup, crispy honey chili soya vegetable. The company's aim to providing nutritious, healthy, and delicious Vegetarian food products Based on Soya.
PRODUCTS PROVIDE: Soya Noodles, veg meat / Mock Meat, Soya Lollipop, Veg Mutton, Veg Egg and more
ESTABLISHED YEAR: 2017
FOUNDER: Amit Bajaj
CONTACT DETAILS: Vezlay Foods Pvt. Ltd
Address: A1/1, Nathu Colony Chowk Shahdara, New Delhi – 110093, INDIA
Phone :(+91) 7011 736 463, 011-22810601
Mail: info@vezlay.com
Plant made:
To extract proteins from indigenous grains and convert them into delicious, functional plant-based alternatives. scrambled eggs, French toast, pancakes, Seekh kebabs, Chicken Nuggets, sausages, koftas (meat balls) and other animal-based food without slaughter any animals.
PRODUCTS PROVIDE:Casher Butter, Peanut Butter, Plant-Based egg, Instant beverages, Bundles of goodness
ESTABLISHED YEAR: 2019
FOUNDER: Rahul Dewan
CONTACT DETAILS: Plant made
Address: Vandana Building, 8 -E, Vandana Building 11, Tolstoy Rd, Connaught Place, Delhi 110001
info@plantmade.co
VEGAN MEAT:
VEGGIE CHAMP:
Ahimsa Food is committed to produce high protein vegetarian food. Veggie champ by ahimsa food was established in 2008 located in New Delhi. Japanese culture who were trying to wean themselves away from a meat based diet to a vegetarian diet. It is the first company in India to manufacture mock meat. Products that look and taste like meat but purely vegetarian. It works for a frozen food-based company.
PRODUCTS PROVIDE: Mock Meat Providers / Plant-Based Meat (hot dog, Kebab, Burger Patty, Sausage. Prawns etc.)
ESTABLISHED YEAR: 2008
Director: Yasmin Ahmed Jadwani
CONTACT DETAILS: Ahimsa Food
A-238, 2nd Floor, Okhla Industrial Area, Phase-I, New Delhi – 110020, India
Ms. Sangeeta Mandal
+919953309885, +919212537636
+91-11-40574993, +917827434026
sales@ahimsafood.in, contactus@ahimsafood.in
VEGETA GOLD:
Established in 2015, they provide unique, healthy, and tasty highly nutritious soya and medicinal mushroom-based gourmet food products. Main ingredient used is soya. Frozen methods are carried out. They produce High-quality Nutritious Soy and Mushrooms. The product range includes Soya Burger, Soya sausages, Soya Nuggets, Soya 65, etc.
PRODUCTS PROVIDE: Plant-Based Meat / Mock Meat & others
ESTABLISHED YEAR: 2015
FOUNDER: Vasanthakumari Neela and Polachi Raja.
CONTACT DETAILS: Biotrack foods, Pvt Ltd.
Regd. Office: No.32, 1st Floor, C-60(O. No. C-47), Anna Nagar Plaza, 2nd Avenue,
Anna Nagar West, Chennai, Tamil Nadu, India. Pin Code: 600040
Email ID: biotrackfoods2014@gmail.com, biotrackfoods@gmail.com
Contact Number: 044-26212530
Wakao Foods: 
Wakao food India's first company world's lesser-known super food jackfruit is taken as the main ingredient to give delicious meat. They are ready to cook from home. It requires no refrigeration of stores and no preservatives with a shelf life of one year. A menu offering dishes like burger patties, biryani, curries, barbeque chicken, and many more. To the agricultural practices carrier out their surrounding farms and the company believes in fair prices for farmers.
PRODUCTS PROVIDE: BBQ Jack
Burger patty
Burger patty double delight
Butter Jack
Raw Jack
Teriyaki Jack
FOUNDER: Sairaj Dhond
CONTACT DETAILS: For further visit Contact – Wakao Foods 
URBAN PLATTER:
Urban Platter vision is to create as many plant-based products. Mindful vegan products are just curated for us to find alternatives for a healthier and impactful life which is better for the world. Products are available on all major e-commerce platforms like Amazon, Flipkart, Big Basket, by using PayTM, eBay, 1mg etc.
PRODUCTS PROVIDE: Range of plant-based food products
ESTABLISHED YEAR: 2015
FOUNDER: Chirag Kenia and Dhaval Kenia
CONTACT DETAILS: ISTORE DIRECT TRADING PVT LTD
C7 Kamanwala Chambers,
New Udyog Mandir 2, Mogul Lane, Mahim West. Mumbai – 400016.
IMAGINE MEAT:
Imagine meats given kebab, Biryani and curry products and other mock meat from dairy and preservative free. Meats is starting to promote vegan based meat without any slaughter carried out. Products are full of fermented India casleus, Natural seasoning, Himalayan pink salt are used. Here products are carried out with eco-friendly parchment pepper and glass jars. Free from cholesterol, boost immunity.
PRODUCTS PROVIDE:Plant based meat (kebab, Biryani, and curry)
FOUNDER: Genelia and Ritesh Deshmukh
Mister Veg:
To save environment and cruelty free food delicious plant-based meat and seafood alternative in hygienic & cost effective manner. Mister veg for Mock Meat products. Some ready to cook food such as Base product Vegiken Strips, Not Meat Minced, Fish Pomfret, Not Meat, Fishless Salmon. The delicious recipes are available on their page. They have Plant-based meat and Plant-based Fish in their Pamphlet with Pomfret and salmon Vegan Fish. Ready to eat products are also available.
PRODUCTS PROVIDE: Plant-Based meat /mock meat & Meat Products -RTE & More
ESTABLISHED YEAR: 2018
FOUNDER: Rupinder Singh and Samarjeet Singh
CONTACT DETAILS: Mister Veg Foods Pvt Ltd.
FCA 602 , SGM Nagar ,NIT , Faridabad
Pin – 121001
Haryana, INDIA
email: mistervegfood@gmail.com, info@misterveg.com
Customer helpline: +91 8178231074
GoodDot: 
Good dot is committed to provide High protein, high dietary fiber, zero cholesterol, zero trans-fat plant-based meat. Our plate had a tangy and spicy flavor experience like a traditional Indian dish. It is based on ready to eat food as a frozen product. The Mock meat products are shown in Pamphlet. All their major ingredients are created from a mix of plant protein ingredients, such as soya, pea and wheat protein. 
PRODUCTS PROVIDE: Plant-based RTE/RTC products
ESTABLISHED YEAR: 2016
FOUNDER: Abhishek Sinha, Stephanie Downs, Deepak Parihar, Taranum Bhatia & Shruti Sonali
CONTACT DETAILS: GoodDot Enterprises Pvt. Ltd.
Address: First Floor, 'Crossway' Building, Near Celebration Mall, Bhuwana, Udaipur, Rajasthan- 313004
Email ID: info@gooddot.in
Contact Number: 095878 87256
Website: www.gooddot.in
Oh Veg:
Oh veg provides completely vegan products Customers can choose to purchase their products online in individual packs or opt for a monthly subscription plan. Customers can choose to purchase their products online in individual packs or opt for a monthly subscription plan. Main ingredients are chickpeas, wheat protein and beetroot with no additives or synthetic ingredients
PRODUCTS PROVIDE: Vegan based meat
ESTABLISHED YEAR:2019
FOUNDER : Mehul Mittal
GREENEST:
Greenest brand was founded by Upstablish Food Technologies Private Limited, to fulfill the nutrition needs of India. Company has extended their lines for plant-based kebabs, meatballs, burger patties and keema. Products are free from preservatives, cholesterol, Trans fat, non-GMO and completely vegan. Greenest has largest launch over across 200 plus location.
PRODUCTS PROVIDE:PLANT-BASED KEEMA , PLANT-BASED SHAMI KEBABS
ESTABLISHED YEAR: 2017
FOUNDER: Gaurav Sharma, Kannan Krishnamoorthy & Dinesh Jain
CONTACT DETAILS: Account – greenest foods
Devigere Biosolutions:
Devigere Biosolutions is a plant-based startup working on extracting and functionalizing proteins from native Indian crops to supply the plant-based sector to increase farmers markets. The company's aim is to produce functional, sustainable, clean label, nutritious plant proteins. One of the innovations can replace egg in baking, healthcare, and cosmetics applications
Specialties: Plant Proteins, Alternate Proteins, vegan proteins, and vegan egg
ESTABLISHED YEAR: 2020
Founders: Smitha Devigere & Abhishek Devigere
CONTACT DETAILS: Devigere biosolutions Pvt Ltd
                                       +919742920393
Vegan snacks, bakes, ice cream
Supplant Foods:
Supplant food is the ingredients company they provide chickpea flour for making ready to snacks sectors. Supplant foods are working in functional proteins derived from lentils. Product is non-GMO, non-allergenic, Sustainable with a low environmental footprint. It has Excellent Organoleptic profile, good protein source (>22%), non-Allergenic and can replace dairy.
PRODUCTS PROVIDE:chickpea flour
ESTABLISHED YEAR: 2019
FOUNDER: Chirag Sabunani
CONTACT DETAILS:
Office address
Supplant Foods LLP
78 Nana Peth, Flat no 201 Ananth Shanti Chambers Doke Talim, Budhwar Peth, Pune, Maharashtra 411002.
+91-9822057298.
Info@supplantfoods.com
Working hours
Monday – Saturday: 09AM – 06PM
WHITE CUB:
White cubs provide the ultimate dessert for those who avoid dairy. Products are Cholesterol Free, Trans Fat Free, and certified Dairy-Free ice creams. Currently providing its product in more than 25 locations in Delhi NCR. Product is available in other metro cities too. They also provide vegan frozen desserts also.
PRODUCTS PROVIDE:Vegan butter, Vanilla mist, Strawberry Crush, Sinful chocolate, Red velvet cake, Raspberry candy, Pink goa candy.
ESTABLISHED YEAR: 2013
FOUNDER: Ms Sonal, Director and CEO of WhiteCub
CONTACT DETAILS: (https://www.lindatuckerfoundation.org)
Compassionate Choices Pvt Ltd and CEO WhiteCub
+91 9818699795
Address: Gurgaon, Delhi
             Email: info@whitecub.in
Mission
The mission is to provide easy access to a wide variety of flavours of dairy-free ice creams gradually in every Indian household, by developing both retail FMCG tubs & Institutional Delivery formats.
AN ODE TO GAIA:
Vegan based desserts are made even from sprinkles to the chocolate topping. All the Bliss Balls and Chunky Cookies are refined sugar-free. They use a variety of refined sugar free options such as coconut sugar, dates, raw sugar, khandsari and agave syrup. Company clearly mentioned they are committed to doing more for the planet – through sustainable packaging, fair working conditions, animal rescues, charitable donations, and a lot more. Products are completely free from dairy, eggs, honey, gelatine and carmine.
PRODUCTS PROVIDE:Different types of desserts like Coconut & pineapple petite cake, Hazelnut praline petite cake, Lemon blueberry pound cake with Yuzu Lemon curd and much more.
ESTABLISHED YEAR: 2018
FOUNDER: Ms Naimita Jagasia
CONTACT DETAILS: Work Timing
Tuesday to Sunday, 10am to 6pm
(Except Holidays)
WhatsApp
E-mail
HARI PRASAD MITHAI WALE:
Hari Prasad Mathai wale is a plant-based confectionery whipping up vegan sweets in India. They are dairy free, zero animal ingredient, no additives, or preservatives, made fresh every day. Sweets are made by using plant-based milk and dry nuts. Coconut nut barfi, besan ladoo, Almond peda are prepared.
PRODUCTS PROVIDE: Plant based sweets (Festive Cheer Box B,Rose Peda,Besan Laddoo)
CONTACT DETAILS:
Hariprasad Mithaiwale
Koregaon Park, Pune
                           Mobile: +91 89566 34364
CONCLUSION:
Each dish connects you with nature and helps for a deep connection with food. Nevertheless, plant-based foods were growing in popularity among meat consumers because nowadays they are conscious about health and environment. Recent survey found Indian consumers are willing to purchase plant-based meat regularly. This positive position and existence towards plant-based meat shows there will not be much difficulty for Indians to change their diet with alternatives compared to the rest of the world. And what do you wait for to ping directly and make your choice with good.
Read our latest article on- On the occasion of the Ganesh Chaturthi Festival, Riteish and Genelia launch "Imagine Meats"
REFERENCES:
1 SlaughterFree Startups Are Revolutionising India's Food Ecosytem
BY Sally Ho Published on Jun 4, 2020 Last updated Jun 25, 2020
2. Top 20 vegan foods in India by pallavi Bose 23, 2021
3. Advantages and Disadvantages of Intensive Livestock Farming
INTENSIVE AGRICULTUREOCTOBER 26, 2016
4. https://www.indianlocalfoods.com/post/vegan-food-brands-in-india
5. https://goodmylk.in/pages/about-us
6.(1) STRIVE – Plantbased Vegan Protein and Nutrition
8.https://investors.oatly.com/
9.About Us – MilkinOats – No Age for Change | MilkinOats
10.Bevry plans to be 'Oatly of India' with a new product development
15 Vegan Food Brands in India (indianlocalfoods.com)
These 19 #SlaughterFree Startups Are Revolutionising India's Food Ecosytem (greenqueen.com.hk)
16.https://www.plantmade.in/pages/our-story
17.From mithai to macarons, 11 Indian food brands offering vegan alternatives | Condé Nast Traveller India (cntraveller.in)
18.Imagine Meats | Plant Based Meat | Ritesh Genelia – Karth Food Factory